I got pretty good tickets for me and Eliz to go see the Idol tour! :D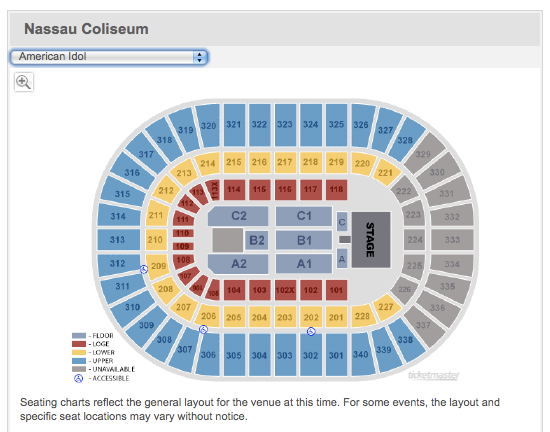 Section 112, Row E :D
It's my first concert and I've never been to the Idol tour, so I am excited!! I kinda wish I had gone in 2009, but I would have had no one to go with D: I suppose I could have dragged someone along. I dragged Liz along to see Spring Awakening with me when it opened, but since it's Idol, it's different, I guess~
PERFECT FLAWLESS CHOICE FOR THE TOP THREE, AMERICA, EVEN IF SOME VOTES FOR HALEY WERE CAST OUT OF ANGER AT THE JUDGES.
LAUREN/HALEY/SCOTTY WAS MY IDEAL TOP THREE AND I NEVER THOUGHT IT COULD HAPPEN, BUT IT DID HAPPEN.
I'M MOSTLY JUST SO HAPPY FOR HALEY BECAUSE SHE DESERVES THIS.
EVEN THOUGH I HAVE LEARNED TO APPRECIATE SCOTTY AND HIS HOKEY WAYS, THIS IS MY IDEAL TOP TWO: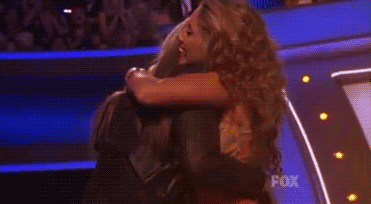 OTHER THAN KRADAM'S MANY LOVELY HUGS, THIS IS THE CUTEST HUG I'VE EVER SEEN ON IDOL. THEN AGAIN, I DIDN'T WATCH FOR THE FIRST SEVEN SEASONS SO LOL IDEK
THEY HELD ONTO EACH OTHER AND FLAILED ALL EXCITEDLY AFTER THAT TOO, IT WAS SUCH A CUTE MOMENT. I WANT A HALEN (IDK WHAT THEIR NAME WOULD BE) FINALE
BUT TBH, IF SCOTTY MAKES IT TO THE TOP TWO, THAT'S OKAY WITH ME.
NONE OF THE TOP THREE FILL ME WITH RAGE
IT'S A WONDERFUL THING
JUSTICE
NO STEFAN NOOOOOOOOOOOO. DON'T GO OFF WITH KLAUS, OH NO.
OH MY GOD VICKY AND ANNA ARE BACK. JEREMY SEES THE GHOSTS OF HIS DEAD GIRLFRIENDS. THIS IS AN INTERESTING THING TO ME, BECAUSE IN EVERYTHING I HAVE READ, BOOKS AND STUFF, VAMPIRES DON'T USUALLY COME BACK AS GHOSTS, ONCE THEY'RE DEAD, THEY ARE DEAD. BUT IF THIS GETS ANNA BACK ON MY TV, IT'S ALL GOOD.
Aaaaand I don't usually like Damon all that much, but I liked him in this episode. Perhaps because he was dying? lol, maybe it's his journey toward redemption. I'll always ship Stefan/Elena, but I do think he and Elena were cute in this episode, once Damon stopped hallucinating/biting Elena, etc. I can see them ~developing while Stefan is off doing evil Klaus-type things.
ELIJAH NOOOO COME BACK
BONNIE IS A BAMF. I CAN'T BELIEVE I USED TO NOT LIKE HER. I LOVE HER NOW.
CAROLINE YOU ADORABLE VAMPIRE YOU.
SHERIFF FORBES BETTER ONLY START HUNTING THE ONES THAT ARE ACTUALLY EVIL BECAUSE SHE KILLED JEREMY (EVEN THOUGH BONNIE AND THE GHOSTS BROUGHT HIM BACK) AND YEAH THAT WAS JUST TOO MUCH.
WE HAVE TO WAIT UNTIL SEPTEMBER FOR MORE? WHAT? THIS SHOW IS CRACK, WHY DO I HAVE TO WAIT FOR MORE?
I realized though that just as the other shows I'm watching are ending (Glee, The Vampire Diaries, Idol), it's okay because soon enough Pretty Little Liars and Degrassi will start back up! Yayyyyy, tv.
I want to be a TV recapper but I feel like everything I say would be full of flail and capslock.