THIS FLAWLESS PERSON JUST TWEETED ME: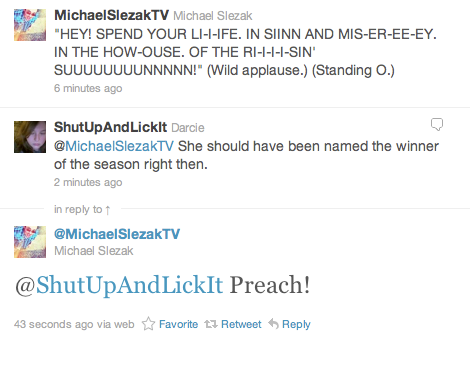 ONLY ONE WORD, BUT OBVIOUSLY WE SHOULD BE BIFFLES OR SOMETHING




It's like Michael Slezak and I share a brain lately.

I hope Haley does really well tonight. Regardless, I'm going to vote for her until my fingers fall off. Fuck the Idol Machine.

If they're going to let Durbin slide by when he doesn't hit the notes, and call his performances "emotionally perfect" then yeah. Honestly... I can't even deal with him anymore.

I read on the Idolatry board that Haley knows what the producers are trying to do, because apparently some of the people on the boards know people who know Haley. And honestly, that makes me really sad. Because she's improved so much. Even if her music style isn't your favorite, that doesn't mean she doesn't deserve her shot.

And don't even get me started on The Voice. This. Just... this:

'I'm loving the articulate, level-headed vibe from The Voice's judging panel, but I'm also a little flumoxed by Blake's decision to choose the blandly handsome, blandly competent Patrick over the vocally superior Tyler — especially since the latter singer showed vast improvement by following Blake and buddy Reba McEntire's counsel to "pick your places" and "don't wear it out" when it comes to showy vocal runs. Yeah, I understand Patrick's country style is more in Blake's wheelhouse (ugh, did I just say "wheelhouse"?) but Tyler's vocals were the lasso to Patrick's tied and immobilized calf. Heck, Cee Lo and Adam agreed!'

This show is already pissing me off.

I love it.


As for Glee, why is Jesse there? Don't get me wrong, I love Jonathan Groff and I think he's insanely talented. But I don't get why Rachel would even TALK to Jesse unless this is her devious plan to get Finn back.

And as for the Kurt/queen thing, I guess I was a little confused because sometimes I get the vibe that he wouldn't care about being voted queen, simply because he embraces that side of himself and likes to say "fuck it" to gender roles and ideas sometimes. I mean, in that one episode where the boys sang against the girls, Kurt sided with the girls. And I just... idk. Not saying I didn't feel bad for him because he was upset - of course I felt bad for him - I just get confused by Kurt sometimes. Maybe the "drawing attention to himself" thing got to him. I dunno.

"Friday" was fun. Blaine's song was fun. Quinn's breakdown was lolarious, poor girl needs to figure out there's more to life than what she's trying to achieve.

anyway.